Case Report : Celiac Artery
Introduction
This case report demonstrates the importance of thin slices acquisition and post-processing tools to see subtle changes of the vessel wall.
History
A healthy 59 year old patient reports an acute epigastric pain, without other symptoms. Physical examination was normal.
Semiology
A CT scan is performed with an arterial and venous acquisition, with intravenous contrast (Iomeron 400, Bracco). This CT scan shows an irregularity and thickening of the celiac artery wall and a mild and focal dilatation of the celiac artery lumen. There is also a local infiltration of the fat surrounding the celiac artery.
Figures 1 and 2 (arterial acquisition on the left, venous acquisition on the right) show the irregularity and thickening of celiac artery (left) and local fat infiltration (right).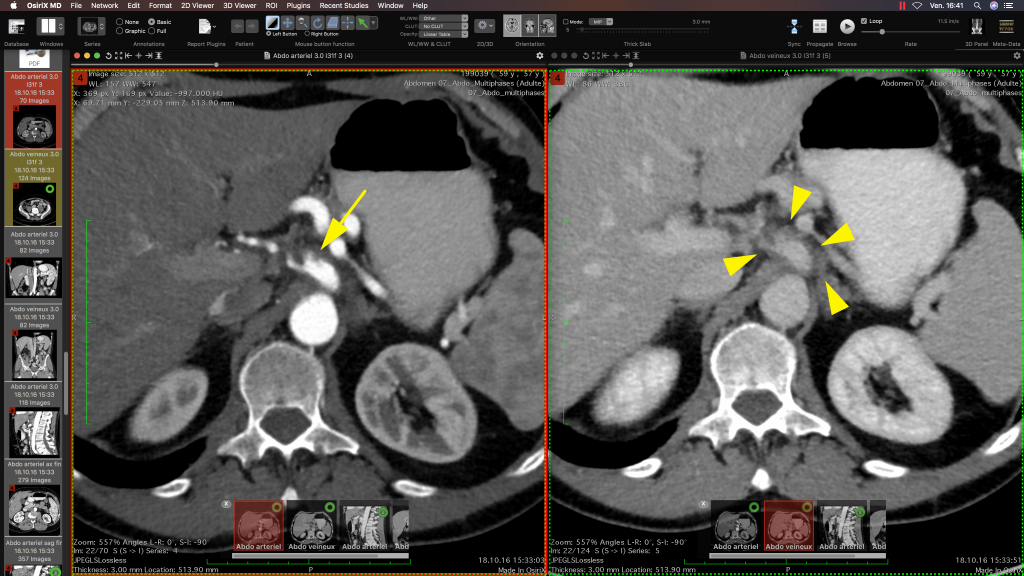 Figure 3 shows MPR navigation around the celiac artery : wall thickening, wall irregularities and diameter focal enlargement.
This patient had already undergone an abdominal CT scan 5 years (2011) before for another unrelated problem. Thanks to this previous CT scan, it was easy to compare the differences between these 2 studies, and confirm that the abnormalities described about the celiac artery are new and acute.
Figures 4 and 5 (2016-2011 sequence and image) show that the abnormalities of the celiac artery are new, compared to the previous study.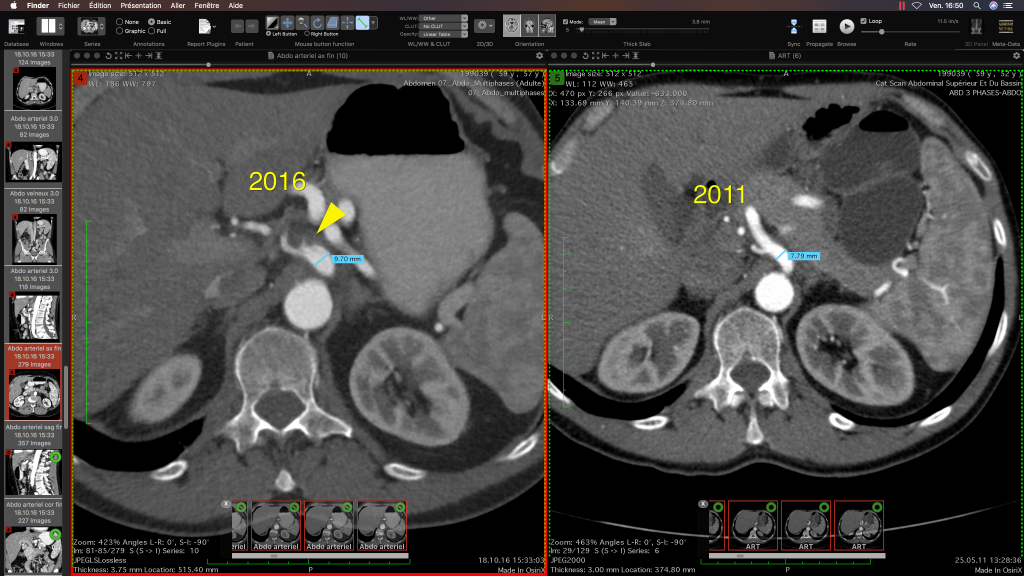 Diagnosis
The diagnostic of spontaneous celiac artery dissection has been established based on these images.
Follow-up and treatment
The patient was treated conservatively with aspirin and follow up CT scans performed at 4 and 16 months. The initial symptoms disappeared after 2 weeks. These follow up studies did not show changes of the celiac artery wall or vessel diameter, but the fatty infiltration around the celiac artery had decreased, and finally disappeared.
Discussion
Spontaneous celiac artery dissection is rare, but the incidence is probably underestimated due to the varied presenting symptoms and the subtle changes on the CT scan. Spontaneous dissection of visceral arteries was first described by Baurersfeld in 1947 [1]. Thanks to the use of thin slices and post-processing techniques, such as MPR and curved MPR, it becomes easier to diagnose this entity. Spontaneous celiac arterial dissection is more common in males (5:1) with an average age of patients being approximately 55 years [2]. The predisposing factors include hypertension, pre-existing vascular disease and pregnancy leading to weakening of the arterial wall [3].
Teaching Point
Spontaneous celiac artery dissection is rare, can present with intimal flap, mural thrombus or infiltration of fat around the artery and can be associated with complications like aneurysm formation or occlusion of the artery. Surgical or endovascular management is only necessary if patient is hemodynamically unstable, has persistent abdominal pain, when medical therapy fails to control blood pressure, and when dissection is progressing [4]. For the interested reader, you can find more CT scan illustrations in these articles: [4], [5], [6].
Dataset
Download and view the original dataset in DICOM format with OsiriX MD from here (Premium Membership required):
Alias Name:
CeliacArtery
Modality:
CT
File Size:
166.5 MB
Description:
Spontaneous celiac artery dissection
References
[1] Bauersfeld S. Dissecting aneurysm of aorta: Presentation of 15 cases and review of current literature. Ann Intern Med. 1947;26:873–89.
[2] D'Ambrosio N, Friedman B, Siegel D, Katz D, Newatia A, Hines J. Spontaneous isolated dissection of the celiac artery: CT findings in adults. AJR Am J Roentgenol. 2007;188(6):W506–11.
[3] Zeebregts CJ, Schepens MA, Hameeteman TM, Morshuis WJ, de la Riviere AB. Acute aortic dissection complicating pregnancy. Ann Thorac Surg. 1997;64(5):1345–8. [PubMed]
[4] Vaidya, Sandeep, and Manjiri Dighe. "Spontaneous Celiac Artery Dissection and Its Management." Journal of Radiology Case Reports 4.4 (2010): 30–33. PMC. Web. 13 Oct. 2018.
[5] Obon-Dent M, Shabaneh B, Dougherty KG, Strickman NE. Spontaneous Celiac Artery Dissection Case Report and Literature Review. Texas Heart Institute Journal. 2012;39(5):703-706.
[6] Kim J, Moree LH, Muehlberger MJ. A Case of Spontaneous Isolated Celiac Artery Dissection with Pseudoaneurysm Formation. Muacevic A, Adler JR, eds. Cureus. 2017;9(8):e1616. doi:10.7759/cureus.1616.